How to Have a Vegan BBQ - Vegan Barbecue Ideas & Recipes
The sun is shining, the mercury is rising, it's barbecue season. And with distancing rules relaxing, we reckon it's going to be a big year for the BBQ. Now, our job at Immaculate Vegan is to show the world that BBQs aren't just for meat eaters! So here are some of our favourite vegan barbecue recipes and ideas.
Meat alternatives
Barbecues are synonymous with meat, aren't they? Not any more. There are now so many great vegan alternatives for your grilled meat. For the closest alternative, try the meat-free patty from Beyond widely available in the US and from Tesco in the UK. If you can't get to Tesco (or the US!) then M&S have their Plant Kitchen range which has a superb range of plant-based burgers that taste very close to the real thing; and Iceland's No Bull Burger comes pretty close too. For sausages you can't go wrong with Linda McCartney's veggie sausages. We also love Fry's Family, Moving Mountains and the Schoomdog from Sainsbury, all good for a vegan grill.
Seitan  
To fool the carnivores, how about this amazing vegan barbecue 'ribs' recipe made from seitan by those incredible vegan cooks – Harry and Ian – at Bosh! whose motto is 'start loving life on the veg'.
Veggie Kebabs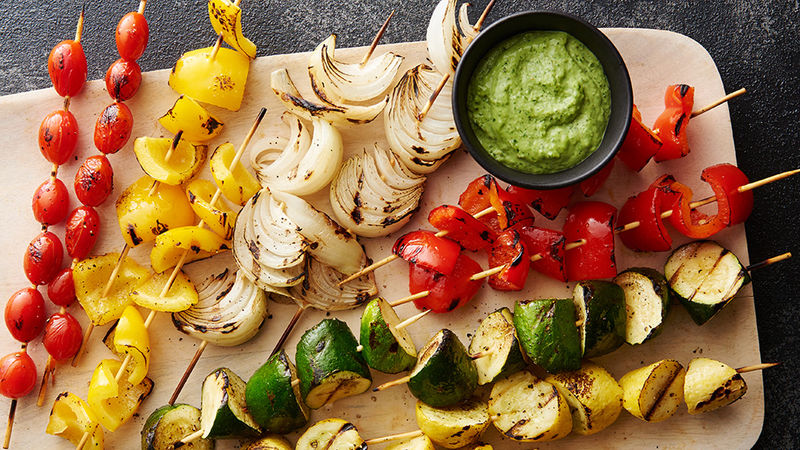 Photograph courtesy of Tablespoon.com
Kebabs are easy to make, quick to cook and brighten up any barbecue. Here's 13 vegan kebab recipes no less – so you should find something for everyone here. Vegan grill perfection.
Mushrooms
Photograph courtesy of BBC Good Food
Want to keep it all looking veggie but keen to satisfy all comers? Portobello mushrooms are your answer! These 'meaty' mushrooms are great served on top of crusty bread. Melt vegan cheese over them (La Fauxmagerie have the widest selection in the UK, but you can get good vegan cheese from most supermarkets these days) and top with wild rocket for a filling meal.
Cauliflower steak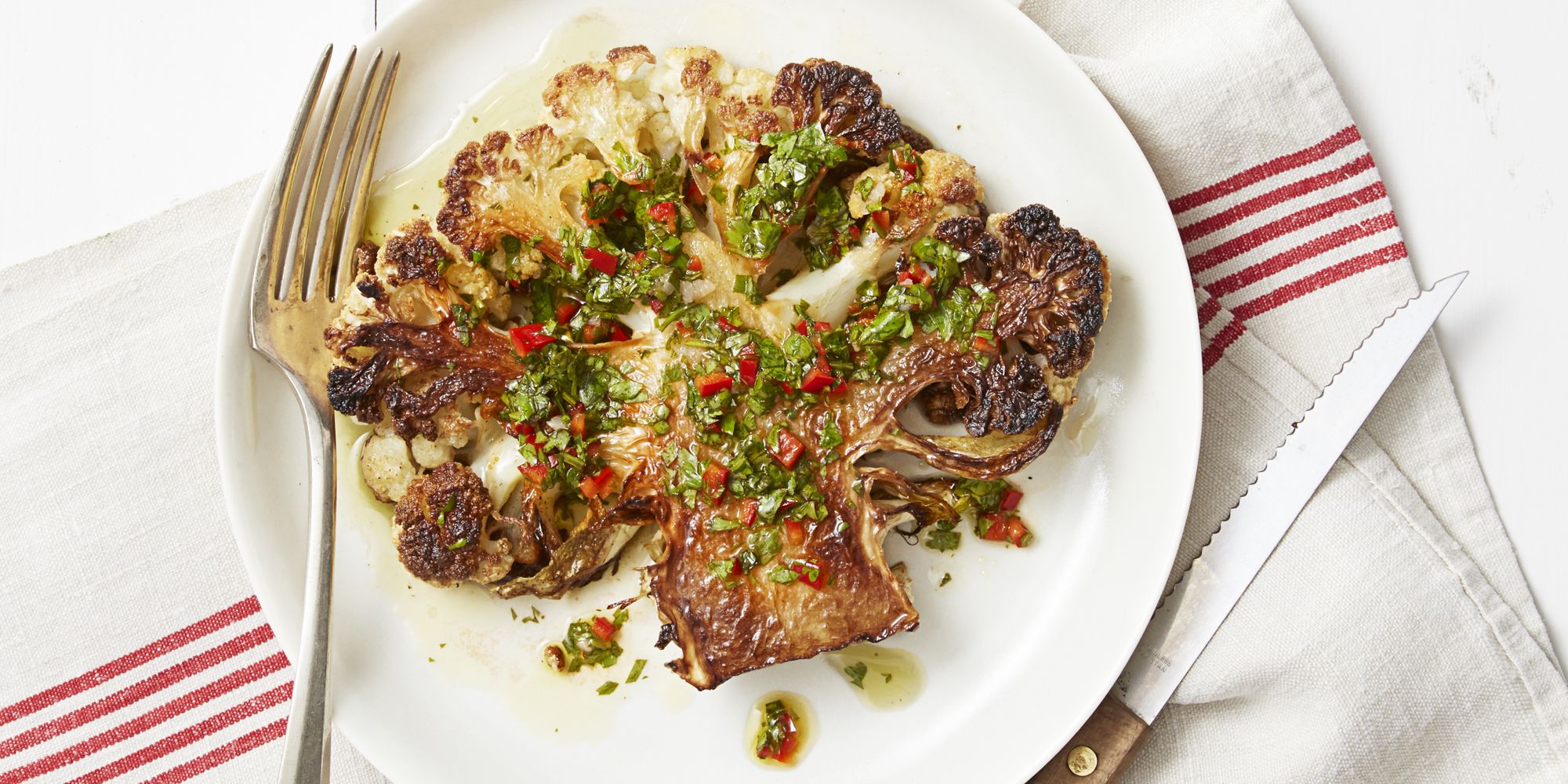 Photograph courtesy of Goodhousekeeping.com
Char chunky cauliflower steaks on the barbecue and serve them with chimichurri, an Argentinian sauce that adds spicy, herby zing and makes this vegan barbecue option a delightful alternative. 
Falafel 
How about a different take on the usual fare with a falafel wrap? Falafels can be grilled on the barbecue, they're hearty and substantial and they're fun to make. Pitta is the obvious wrap but how about this version from the Minimalist Baker wrapped in chard for a naturally gluten-free option.
Jackfruit
If you are looking for a really original vegan barbecue idea then try Jackfruit. Jackfruit, a tropical fruit that looks like pulled pork - an American barbecue staple -  is becoming one of the most popular plant-based meat alternatives. Before it ripens it has a neutral taste so it takes on the flavour of whatever sauce or seasoning you pair it with. We love this vegan barbecue recipe from Minimalist Baker which will fool any carnivore into thinking they're eating pulled pork!
Corn 
Photograph courtesy of www.seriouseats.com
Corn on the cob is perfect vegan barbecue food and it won't fall through the gap in the grill when you cook it. Why not spice it up a little? Just mix together chilli flakes, spices, lime juice and a little olive oil, and roast on the BBQ until done to your liking. Or how about this version with creamy avocado dill dressing. 100% vegan. 
Salads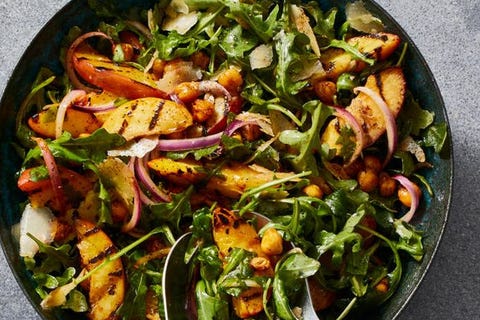 Salad is an essential part of any BBQ and here's where us vegans take over. There are endless options, but here are a few hearty salad recipes featuring plant based proteins or a twist on an old favourite:
Dessert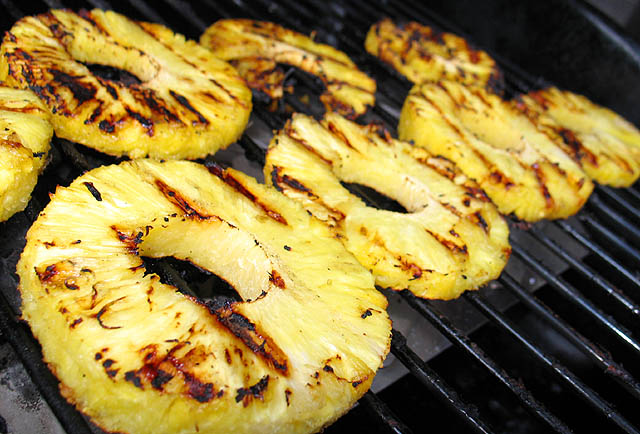 Photograph courtesy of betterhousekeeper.com
If you want a sweet finish, try grilling pineapple on the BBQ topped with Swedish Glace vegan vanilla ice cream. We also love the Oatly range of ice-creams which are truly indulgent, plus for the traditionalists you can now get vegan Cornettos and vegan Almond Magnums (don't tell your non-vegan guests, we promise they won't even notice!). 
Vegan Drinks
Can't have a barbie without booze? Your beer needs are sorted by Budweiser and Heineken, both of which boast 100% vegan beers, but Peta lists hundreds more. And for sips in the sun, go for rosé. Proudly Vegan has a good one in its 100% vegan wine range. If bubbles are your thing, pop a bottle of vegan prosecco like this one from Thomson and Scott. If you're not sure whether your favourite tipple is vegan or not, you can also check it out on Barnivore.
Sustainable BBQ fuel
Sadly barbecues are a climate problem. According to research by UK scientists, a typical summer barbecue for four people is responsible for more greenhouse gas emissions than an 80-mile car journey. The solution in the UK is to buy British lumpwood charcoal from sustainable sources that hasn't been impregnated with lighter fuel (look for similar options wherever you live). It burns for far longer so, although it's a bit more expensive, you'll use much less. And use natural firelighters such as those from Flamers.  
The BBQ
When it comes to the barbecue itself, use a lid and adjustable vents as they help control the temperature. Try one that's that's designed to use as little fuel as possible, such as the Cobb or (if you can afford it) a Big Green Egg. Avoid foil single-use barbecues as they use impregnated briquettes and rarely get recycled. 
Follow these vegan barbecue ideas and feel comfortable as well as full by helping make barbecues more ethical, sustainable and vegan. Let's turn BBQ to VBQ! 
For more summer inspiration, including a great selection of ethical & sustainable swimwear, sandals, sunglasses, beach bags, hats, sarongs and espadrilles, check out the Immaculate Summer Shop.
For more articles like this in your inbox, sign up to our newsletter, and get 10% off your next purchase too.