Melina Bucher is a vegan bag and accessory brand that believes in a sustainable, cruelty-free future of fashion, going on a mission is to promote a new way of enjoying luxury and a modern, innovative approach to fashion.
Committed to a transparent supply chain and reducing their impact on the planet and its inhabitants, Melina Bucher  wants a fashion world that's a cruelty-free, more place. 
The characteristic element of the brand's collection are the signature animal prints inside each handbag. Self-confidence, empowerment, environmental integrity – Melina Bucher bags embody values of modern women and inspire them to express their beliefs.
About the Founder
Melina Bucher always had a special connection with high-end fashion, but researching the conditions behind fashion production, she discovered that fashion had a huge impact on humans, animals and the environment. Melina found herself wondering if these practices were in line with her understanding of value and quality and the simple answer was no.
So in 2018 she started a brand with a mission to combine things that for a long time had seemed to be contradictions: ethics and luxury, sustainability and aesthetics, smart functions and design. Besides running the brand, Melina teaches sustainable fashion management at universities in Heidelberg and Reutlingen and also acts as a mentor at a textile accelerator in Germany, educating the new generation of fashion professionals on sustainable business practices.
"We redefine luxury – one bag at a time."
Materials
Melina Bucher specialises in innovative materials that outperform animal skins. Their high-performance textile of choice is a cotton fabric backed with a thin PU and vinyl layer – a luxuriously soft yet durable material. For linings and accessories, the brand uses GOTS-certified organic cotton. The brand is actively involved in material development and aims to produce their bags in a circular process, using fully plant-based leather.
People
Committed to full transparency, Melina Bucher only works with suppliers certified by GOTS and Oeko-Tex. In order to receive the GOTS seal of approval, all processors and manufacturers must meet minimum social criteria based on the core standards of the International Labor Organization. Furthermore, the brand only works with manufacturers within Europe who are committed to EU guidelines, including their European, family-owned factories.
Production
Melina Bucher is in constant communication with their manufacturers to further lessen the environmental impact of their designs. The brand's organic cotton prints are made in specialised digital laboratories with animal-free, plant-based colour dyes. Digital printing ensures that only the needed quantities are imprinted, minimising ink usage and textile waste.
Starting from 2021, the label designs their collection and manufactures their prototypes solely in 3D, a process that allows them to minimise transport, CO2 emissions and, once again, textile waste.
All production of organic cotton for the label, as well as fabric dyeing and vegan leather manufacturing, sewing and finishing takes place in the Istanbul area, whereas the handbags are hand-crafted in Europe.
Packaging
Melina Bucher accessories come in boxes made from recycled paper and wrapped in paper-based tape with vegan glue. Postcards and business cards used by the brand are produced locally in Germany, from vegan-certified, recycled materials. The brand's printing partner is a zero-emissions facility that uses waste heat from the printing process, as well as solar energy, to avoid pollution. Whenever you purchase a Melina Bucher product, it is sent to you with CO2-neutral shipping, by offsetting emissions.
Animals
Melina herself has been passionate about animal welfare for a long time, always bothered by the fact that most designer bags are made of animal leather. Reducing animal suffering was the very reason Melina Bucher founded her brand – so no compromises are made in this regard. Not only the are the designs vegan, but also printing materials, paper and furniture in the brand's headquarters is all vegan-friendly.
The PETA-Approved Vegan label also supports animal welfare projects by donating a portion of their profits. In March 2021, Melina Bucher launched the CATLOVER charity collection to support animal shelters during the COVID-19 pandemic.
To discover more like this, visit our vegan bags collection.
You can read more about the problem with animal  leather and sustainable vegan leather alternatives on our blog.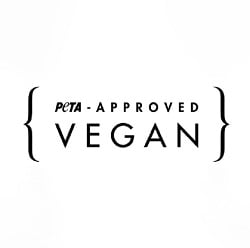 What are the best vegan trainers?
That's a hard one as 'best' is personal! Immaculate Vegan has one of the largest collections of vegan trainers from a wide variety of brands from across the globe. Take a look! Our best sellers come from BeFlamboyant, Humans are Vain, Yatay, Good Guys Don't Wear Leather, Ration.L and Komrads.
What are vegan trainers made from?
Vegan trainers (and sneakers) are made without the use of any animal materials, such as leather, suede, fur or wool. Vegan shoes are made of a variety of fabrics, traditionally synthetic but increasingly using innovative materials derived from nature with all the properties of leather, such as apple leather, cactus leather and bio-based leather (made from oil derived from cereal crops). Many synthetic trainers are now made using recycled plastics from ocean trash.
Are vegan trainers waterproof?
That depends on the style and the fabric in question. Canvas trainers are not waterproof, vegan or otherwise. But most of our trainers are water-resistant and some are also waterproof, as well durable and 100% vegan.
Are vegan trainers durable?
The quick answer: yes! But you can make them last longer by taking care of the shoes. Just as you would care for animal-leather trainers, you should look after your vegan leather trainers. With proper care, vegan trainers can last anywhere from two to five years, depending on how much wear and tear they encounter, which is the same as their animal-leather counterparts.
Are trainers the same as sneakers?
Yes! As far as we are concerned they are.

The British call them trainers, because they can be used for sports or training.

The Americans call them sneakers, presumably because, being soft-soled, they're suitable for sneaking around in!

But to confuse things further, they are also called tennis shoes in the US.
What are vegan sandals made of?
Vegan sandals are made without the use of any animal materials, such as leather, suede, fur or wool. There' a wide variety of materials that can be used to make vegan sandals, including polyurethane (also known as PU), apple leather, pineapple leather (Pinatex), cactus leather and bio-based leather (made from oil derived from cereal crops). In addition, some vegan sandals are also made from recycled materials, such as recycled polyester or other recycled fibres.
Are vegan sandals durable?
Many vegan sandals now are made using high quality and durable materials, and many of the new vegan leathers are of very high quality. But you can make your vegan sandals last longer by taking care of them well. With proper care, vegan sandals can last for many years, depending on how much wear and tear they encounter, which is the same as their animal-leather counterparts.
Are vegan sandals better for the environment?
Vegan materials tend to have a much lower carbon footprint and be much be kinder to the environment than animal leather, which is one of the most environmentally damaging materials used in fashion. Whilst there are vegan materials such as PVC which are toxic and harmful, none of the vegan sandals or products at Immaculate Vegan contain PVC. We also choose to partner with brands who are creating the most sustainable vegan sandals possible, using the most sustainable vegan materials.
Are vegan leather sandals comfortable?
There's really no difference here between vegan and non vegan sandals – it all depends on the quality and fit of the brand and the styles you choose. We partner with premium footwear brands at Immaculate Vegan to bring you vegan shoes that are high quality, stylish and comfortable.
Are vegan sandals good quality?
Whilst not all brands are equal, at Immaculate Vegan we select footwear brands making high quality, stylish and cruelty free vegan sandals and shoes.
Are vegan sandals waterproof?
That depends on the style and the fabric in question. Canvas and fabric vegan sandals are not waterproof, vegan or otherwise. But some of our vegan sandals are water-resistant and some are also waterproof, as well as durable and 100% vegan.